Connor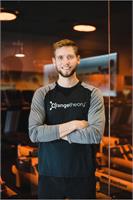 Coach Connor was drawn to Orangetheory Fitness because of the energy the workout brings. His classes are always upbeat and fun while he claps and dances to keep you moving towards the Orange Zone. A certified personal trainer through NPTI including certifications in TRX, Kettleball and Metafit. Connor will push you to be your best self by focusing on your form and overall fitness goals.
WHAT DO YOU BURN FOR?
Summer and Ben and Jerry's Half Baked Ice Cream.
WHAT'S YOUR GUILTY PLEASURE?
Binge Watching Movies/ TV Shows.
WHAT'S YOUR FAVORITE OTF EXERCISE?
Run/Row Days or Chest Fly to Tricep Extension.
Connor instructs the following:
60 Minute Orange Theory Workout